Manufacturing process of Karakuri Boxes
Karakuri Boxes are made from wood, and they need precision work to move the mechanism.
How is that processed and manufactured?
1
Planning and Designing
At first, Karakuri craftsmen design and plan a new Karakuri box.
They sometimes cooperate with each other or give advice.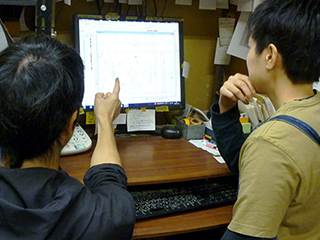 2
Making trial production
They make a sample or trial production and check whether it moves according to the image, and also if there are any defects.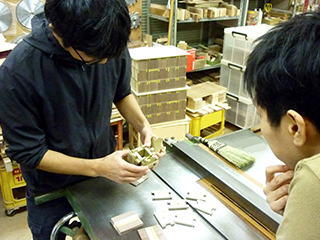 3
Cutting out the wood and drying it
Next, the craftsman cuts out as much wood as he needs and dries it.
It is important to manage the humidity of the wood plates when making Karakuri boxes.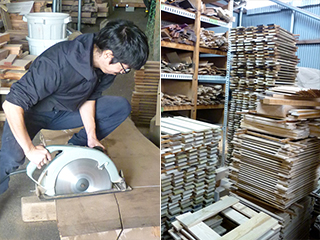 4
Making parts
After the wood plates have sufficiently dried, the craftsman makes many parts for assembling Karakuri Boxes.
Each process is all done by hand one by one.
It is a very careful and delicate process.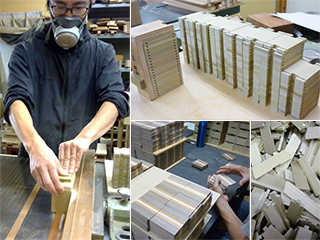 5
Assembling
Once they have the necessary parts, they are ready to be assembled.
They are assembled individually by hand.
Concentration and perseverance are the most important things here as mistakes in assembly can result in a box that "never opens" or a box that successfully opens "normally".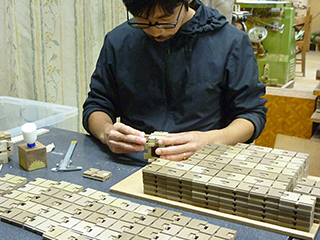 6
Coating
After the product is completely assembled, we check the look and coat or varnish the wood.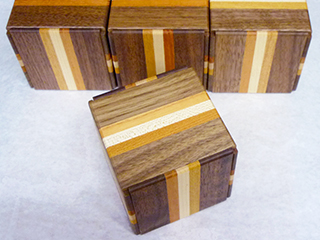 7
Inspection
After the coating is finished, each Karakuri box is checked by the craftsman.
We check if it opens properly according to the procedure or if the movement is good.
We also check the appearance of it after coating.
And we check for scratches and dirt.
Only those products that have passed the inspection are packed in paper boxes or bags, and delivered to you.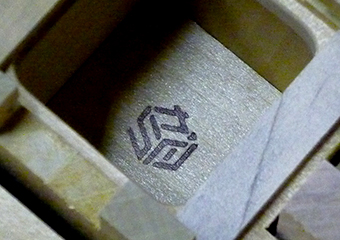 Addition
We stamp or brand the symbol of each author on the Karakuri box somewhere.
The work co-developed by the Karakuri Creation Group has this "Karakuri" branding, and each craftsman's work has the branding of each craftsman.
Where it is stamped depends on the work and craftsman.
Please look for it!