About Karakuri Box
"Karakuri Box" is based on a traditional craft "secret box" made in the Hakone Odawara region.
The box's mechanism is made by the craftsmen's own imaginations.
Different shapes and different ways of opening.
Push, shake, turn …
Please pick it up and try it out.
You can open "Dice" in this way!
History of the Karakuri box
From "Secret box" to "Karakuri box"
As Hakone has developed as a tourist destination since the late Edo period, souvenirs have been created with various ideas.
One of them is the "Secret box", which has a history and tradition of about 120 years.
Hakone Yumoto's artisan craftsman, Takagoro Okawa, invented this secret box.
Prototype of Secret box, Okawa type Secret box
Compared to the current "secret box" with parquet, it is very simple, but it still has the sliding feature of "secret box" where the sides of the box slide in order to open the box.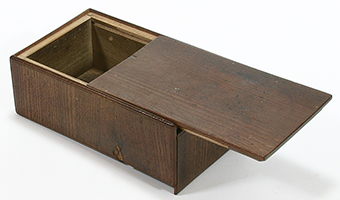 Current Secret box
After that, the Secret Box was built with a variety of ideas based on the rich forest resources of Hakone and the outstanding woodworking techniques of many craftsmen, which has established the current style.
It is popular as a souvenir of Hakone, and there are many fans and collectors overseas.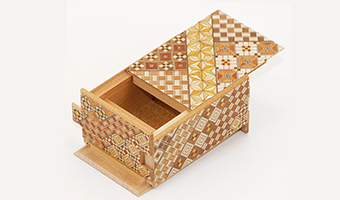 Various Karakuri boxes
The "Karakuri Box" is made with the creative ideas of craftsmen while inheriting the charm of "Secret Box".
"Karakuri Box" craftsmen of various ages are pursuing richer expressions in their work, such as shapes that offer a hint to opening the box and works with more advanced mechanisms.
"Karakuri Box" continues to develop new ideas even today.
A number of representative works of the Karakuri Creation Group!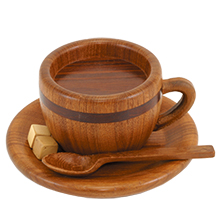 Coffee cup
How many lumps of sugar would you like?About this work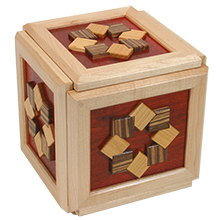 KING CUBI
It takes 1536 moves to open!About this work
Dice
This is one of the most famous Karakuri Box!About this work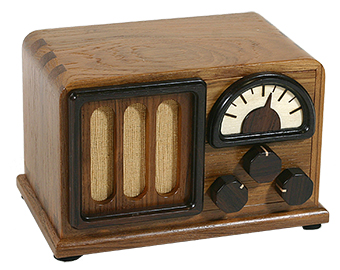 Bad radio
Many elderly people fixed it in this way.About this work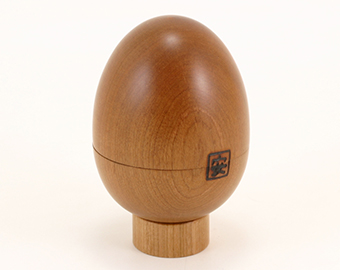 Egg
How do you eat eggs??About this work