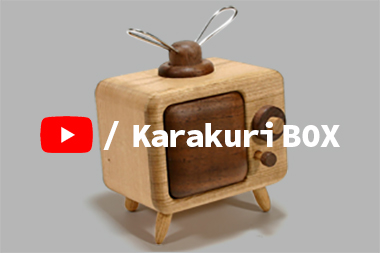 NEW ARRIVALS
It's really amazing with a cute face
What is "Karakuri Box"??
"Karakuri Box", is a box, with a mechanism made from the individual ideas of craftsmen based on the traditional craft of the Hakone and Odawara region, known as the "secret box".
There are various shapes, opening methods, and mechanisms.
Push, shake, or turn … Take it and try to open it!
Let's look at this "coffee cup" box. Even though it has a pretty shape, it still opens properly.
The hint is "A little breath". Would you like some coffee? How many lumps of sugar would you like?
Group of craftsmen making a Karakuri box
About Karakuri Creation Group
The "Karakuri Creation Group" is a group of craftsmen aiming to create fun and high quality Karakuri Boxes.
We make over 40 new Karakuri boxes every year.
Each craftsman makes an original work, and also makes a reprint of an interesting Karakuri box at an affordable price.
We also make traditional Karakuri Trick boxes under the name of the Karakuri Creation Group, publish books about Karakuri Box and do various other activities.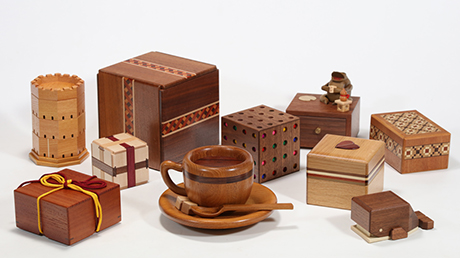 The rich character of Craftsmen
in the Karakuri Creation Group
The Karakuri Creation Group currently has 10 Karakuri box craftsmen,
including veterans and young researchers. Each craftsman's style is unique in his own work.
We hope you find your favorite craftsman!