These are the newest winner of Karakuri Box Idea Contest.
Watch the other annual winners Click here


◆Design grand prix   "Dinosaur"

Original idea by Tayori Kira
Hand-crafted by Yoh Kakuda (Karakuri Creation Group)

The ferocious-looking dinosaur is about to attack at any moment!
If it bites you with its mouth, you will be in serious trouble.
The story is very simple and natural, but you may need courage to open it!
You can enjoy it as an art object.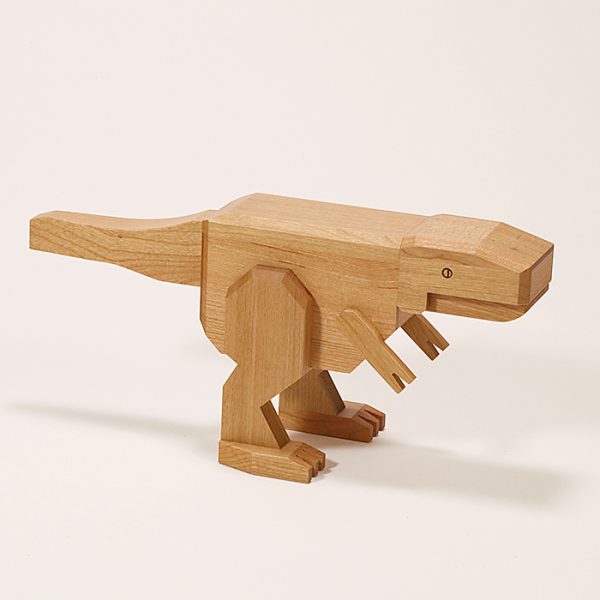 ◆Astonishment grand prix  "Volcano"

Original idea by Aoto Tabuchi
Hand-crafted by Hiroshi Iwahara, Hideaki Kawashima (Karakuri Creation Group)

It is an item with a towering volcano as a motif.
It was finished in a steep octagonal pyramid shape.
We also wanted to make it look like Mt. Fuji with snow, but of course, we finished it in a color reminiscent of a volcano.
"Old katsura", the material of the summit, is may really be a tree that was once buried by volcanic activity.
If you look through the crater, you will find plenty of red magma. Is the magma hot?
Still, when you press the magma with your finger, it seems to move a little.
So how do you open a volcano?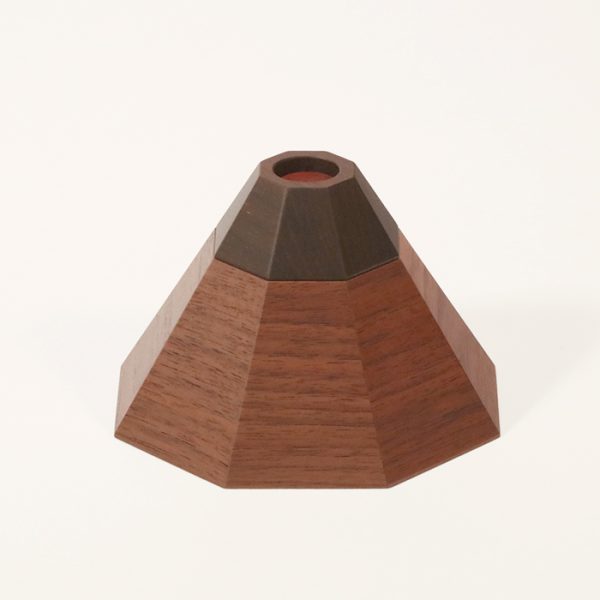 ◆Unique grand prix   "Banana"

Original idea by Tomoharu Tanaka
Hand-crafted by Osamu Kasho (Karakuri Creation Group)

There is a silhouette of a person on the side of the box.
If you move the person forward, the drawer will open halfway.
But you won't be able to open the drawer lid as it is.
Ah, look closer, there is a banana peel at the person's feet!!
Guess what will happen to him next.
It is very simple to open. Enjoy the humorous movement of the gimmick.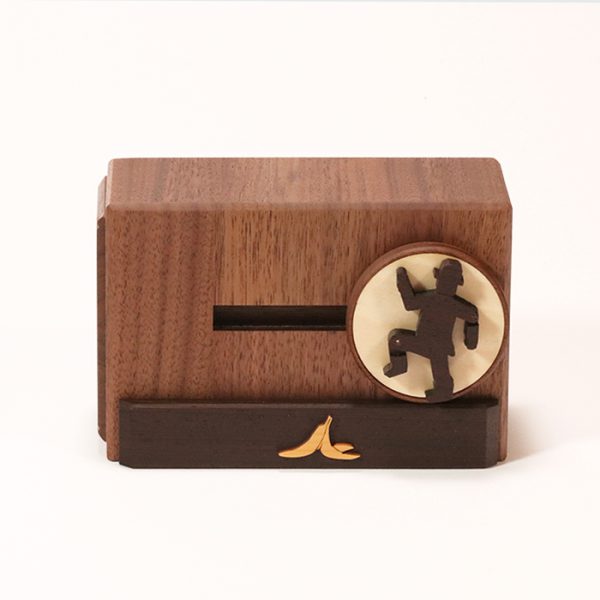 ◆Favorite grand prix  "Bottle lid"

Original idea by Naoko Ono
Hand-crafted by Yasuaki Kikuchi (Karakuri Creation Group)

The lid is not hard but it is not easy to open.
''Bottle'' is familiar and everywhere in our life thus gimmick is effective and unique.
This is cute stripes bottle, please relax and have a go!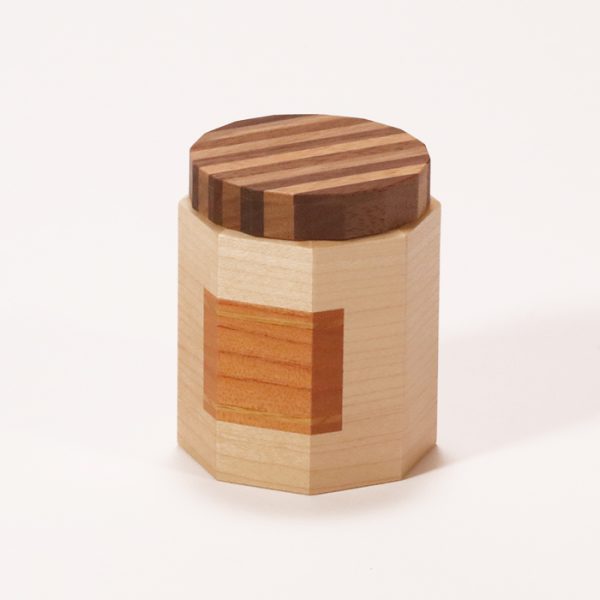 2022 Karakuri Box Idea contest Screening report
Naoaki Takashima, a member of jury group
Congratulations grand prix award winners!
Thank you for all who vote for the award on the four Karakuri boxes. Thank you for all members of Karakuri Creation Group who converted the applicants' ideas to real Karakuri boxes with excellent detailed design and craftsmanship. And, I also thank all supporters of this contest.
Though the Corona virus spread rapidly in any part of Japan since early 2020, we are pleased to announce the fact that we received 79 ideas as entries of this contest.
The four jury members for the first-stage screening were Tadayuki Sakamoto, Tsutomu Onosawa, Hiroshi Iwahara and I. Due to the Corona virus spreading situation, each jury performed the screening independently at their own home. At the first-stage screening, all entries were examined in detail before April 10, 2022.
The entries of this contest submitted to us were shown not the concrete design of Karakuri box but only the idea which explain how the Karakuri box works.
So, at the first-stage screening, each jury considered whether the proposed ideas will be fun to play or not when the idea become real, as well as whether they are innovative or not.
The result of the first-stage screening was sent to the Karakuri Creeation Group for the second-stage screening performed by the members of the Group. The feasibility of manufacturing of each ideas screened at the first-stage was assessed by them. And finally four ideas ("Dinosaur", "Volcano", "Banana", and "Bottle lid") were selected for detail design and manufacturing. The members of Karakuri Creation Group had converted the original ideas into concrete Karakuri boxes by close contact with the applicants who created the original ideas.
It should be noted that the name of grand prix given to each of the four selected ideas based on voting of general public does not mean the ranking of them. Each idea has its incomparable wonderful feature. Please enjoy each of them by manipulating in your own hands.
Special feature of award winners of this year is its age composition that three winners out of four are kids under ten years old. In the past contests, the young peoples were generally supposed to get their hints of ideas from events encountered in their daily lives. And therefore, I had recommended to pay notice to the events in daily lives to find good ideas. However, the young winners of this year may get the idea in the wider field of visions than from only daily life, such as eruption of volcano or behavior of dinosaurs. This shows that an interest not only in the various events we encounter in our daily lives, but also in the natural world more broadly, can also be a source of great ideas. I hope you will use this lesson to generate ideas in future contests that even professionals have a hard time coming up with.
September 1, 2022
Naoaki Takashima